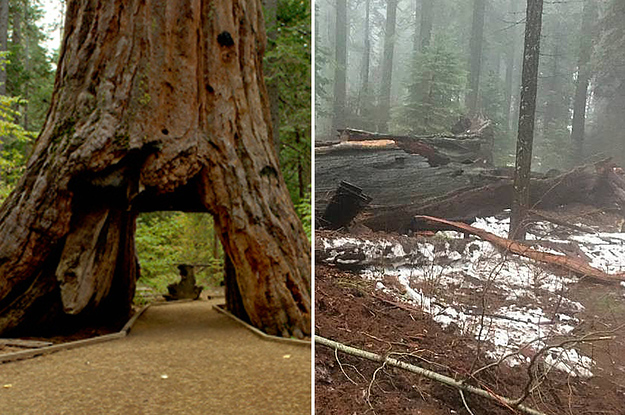 The Pioneer Cabin tree, a large and ancient sequoia located in Calaveras Big Trees State Park, California that was tunneled through in the 1880s, has been destroyed by severe winter conditions. The age of the tree is unknown, but officials estimate that it's at least a few hundreds of years old.
Hundreds of people fled their homes during a massive winter snow storm that came with heavy rain, damaging winds and lightning which caused mudslides and flooding all across Northern California and Nevada. The Russia River in California's Sonoma County, as well as the Truckee River near Reno, Nevada, overflowed. Weather experts warned that the flooding could go on for days, and that residents should be prepared.
The storm stretched all the way from Hawaii, and it arrived just as California entered its sixth year of drought. Trees were toppled onto cars and homes, and in some instances the debris blocked roads in the San Francisco Bay area, forcing officials to rescue stranded drivers from cars stuck in the flood.
The Pioneer Cabin Tree was known for the huge tunnel carved through it that used to be a passage for cars. It received its name because once the hollowness gave it a chimney-like appearance, similar to that of an old log cabin. The tree was one of the main attractions to the 200,000 annual visitors who walked the park trails.
Inquisitr
The Calaveras Big Trees Association announced the sad news via a Facebook update that read: "The Pioneer Cabin tree has fallen! This iconic and still living tree – the tunnel tree – enchanted many visitors. The storm was just too much for it." According to a park volunteer, the storm flooded the trail around the tree, loosening the sequoia's roots and causing it to fall on a Sunday afternoon. The tree shattered into giant splinters once it hit the ground.
Thousands of Facebook users responded to the announcement. One user said he created "good memories" under the tree, and others pointed out that the tree might have lived longer if it didn't have a hole cut through its foundation. One user asked: "This hole has always bothered me so much. Why not just drive around it?"
The Pioneer Cabin tree was carved in response to the Wawona Tree in Yosemite Park, one of park's biggest attractions. Like the Pioneer Cabin tree, it fell due to a winter storm in 1969 at the age of 2,100 years old and 234-feet in height.
What are your thoughts on this? Let us know in the comments below and don't forget to SHARE this post with your Facebook friends.